GUIDE SERVICES!: Our guide trips in California and Nevada are geared to your particular needs. Our Guides are insured & bonded and have an intimate knowledge of the waters you will be fishing on. All Guide Trips are walk & wade trips or Float Trips when water conditions are optimal, with emphasis on continuing education in fly fishing and catching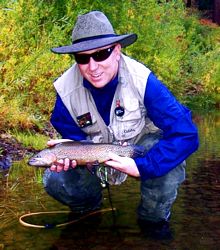 fish.... Of Course!
Your guide trip takes place under permit by the U.S. Forest Service when on Humboldt- Toiyabe National Forest Lands.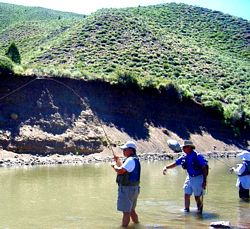 | | |
| --- | --- |
| | Half Day Guide Trips ~ $250.00/275.00 |
| | Full Day Guide Trips~ $350.00 /$400.00 |
| | On The Water Instruction~ Hourly |
| | Corporate and group trips~ Call for Rate |
Our network of guides and U.S. Forest permits literally covers hundreds of square miles of the Eastern Sierra from Pyramid Lake, Truckee River, East & West Walker Rivers in Northern Nevada & California to the Owens River. Odds are, we can fill your guiding needs. All our Guides will also instruct you on Proper Catch & Release techniques.
WHAT TO BRING
Your Guide Trip will require moderate physical exertion which you should be prepared for. Activities such as walking on un-even ground sometimes for distances, walking on wet and slippery rocks, exposure to direct sunlight and or inclement weather. Some items you should bring along to make your outing more comfortable are listed below.
| | |
| --- | --- |
| | Sunscreen |

| | |
| --- | --- |
| | Polarized Sunglasses |

| | |
| --- | --- |
| | Wading Boots (with felt or sticky sole) |

| | |
| --- | --- |
| | Lot's of water and a way to carry it |

| | |
| --- | --- |
| | Waders (during winter, spring & fall) |

| | |
| --- | --- |
| | Hat |

| | |
| --- | --- |
| | Rain Jacket |

| | |
| --- | --- |
| | Valid Fishing License |

| | |
| --- | --- |
| | Leaders & Tippet Material |

| | |
| --- | --- |
| | Camera |

Did We Mention Lot's Of Drinking Water And A Way To Carry It?

Rod's & Reel's Are Available For An Additional Fee.
Your Guide's work hard and gratuities are always welcome & appreciated.
MEET OUR GUIDE STAFF:
~Don Weirauch, Owner / Guide / Instructor~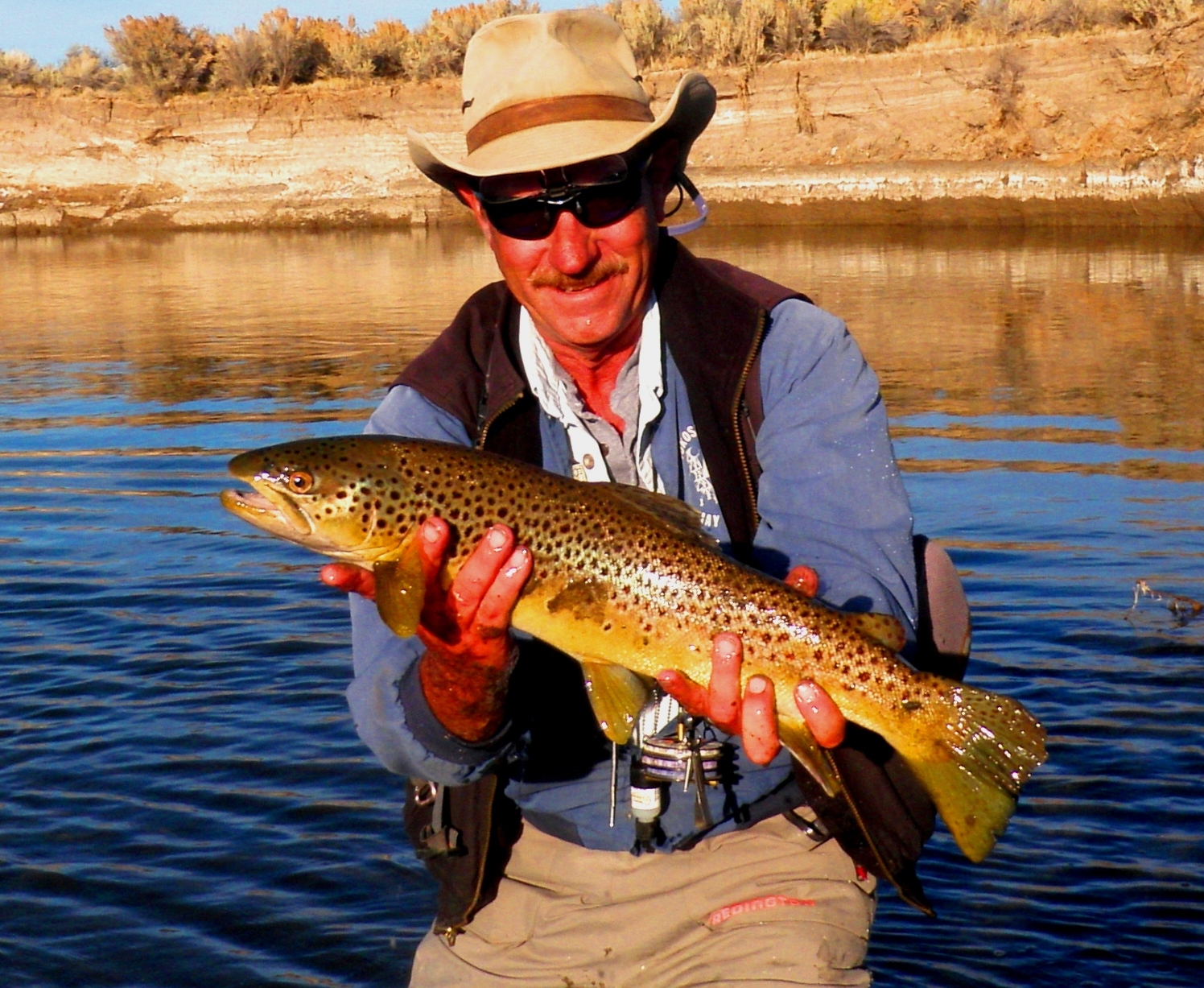 Don has been fishing all his life, mostly in the Western U.S. Growing up in New Mexico and Colorado has instilled a true love of trout fishing that never seems to be satisfied. Don's been fishing the Tahoe region for over almost 2 decades and really enjoys getting away to the back country high mountain lakes and streams on his days off. He is a licensed Guide in California and a licensed Master Guide in Nevada.
His easy going laid back style insures that your day on the water will be just what you want it to be. Don takes pride in making sure that all clients, whether new to the sport or a seasoned angler, take away one new technique or tid-bit that will enhance their future fly fishing experiences.
~Liz Weirauch, Owner / Guide / Instructor~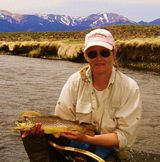 Liz has been fishing her entire life, from the warm water fisheries of Michigan where she was born to the Rocky Mountains of Colorado and with her husband on the Pacific Ocean for big game fish and surf fish. A decade plus of fly fishing in the Eastern Sierra and teaching her love of the sport has given Liz a unique look at trout psychology and habits that will increase your knowledge and love of fly fishing. Liz loves fishing and is more than willing to pass on her excitement and gratification of enticing a fish to take a fly.
"Fly Fishing, is the only hunting endeavor where the quarry can be released unharmed to be hunted another day."
~Jose Luna, Guide / Instructor ~ Jose believes the waters in the Eastern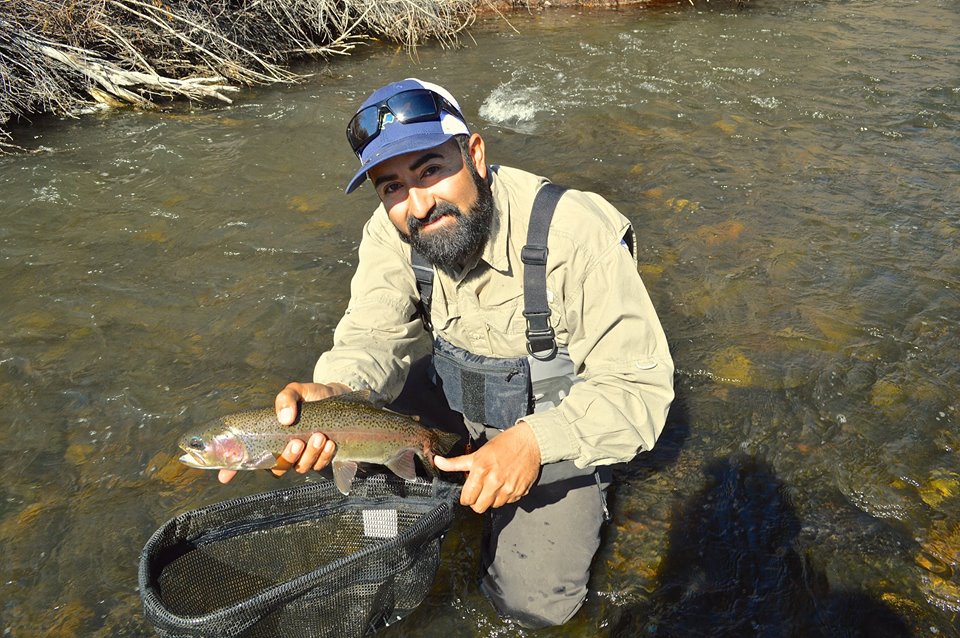 Sierra offer excellent opportunities for everyone from beginner to advanced... Jose says there's always something new to learn because not all waters are created equally, and adaptability is a must! A patient guide, excellent with beginners to the expert, Jose has lived in Nevada for the last 24 years, and fell in love with fly fishing in 2001. He's avidly pursued fly fishing for several years now, hitting the tropical waters for Rooster, dorado, Tarpon on the fly, but always coming back to the Sierra Trout. Jose loves the waters we have here locally in the Eastern Sierras, and is constantly developing new flies and techniques to better the fishing experience for his clients

~Jan Nemec, Guide / Instructor~ Jan Nemec brings more than fifteen years of experience on the Truckee River and
surrounding waters. Before reaching the age of 18 Jan was a licensed fly fishing guide and commercial fly tier based out of Truckee, California. Most recently Jan authored "The Fly Fisher's Guide to: Nevada" and is the exclusive "Orvis Endorsed" guide in Northern Nevada. . He currently contributes articles and photographs to Sierra Fisherman Magazine and other fly fishing related sites.. Several of Jan's fly patterns are commercially tied, all specifically developed for the local Nevada fisheries and neighboring Sierra Nevada Mountains. His passion for propelling the sport is evident through his warm and patient teaching style.